SOLD OUT
Sign up for the waitlist to get notified for the next round!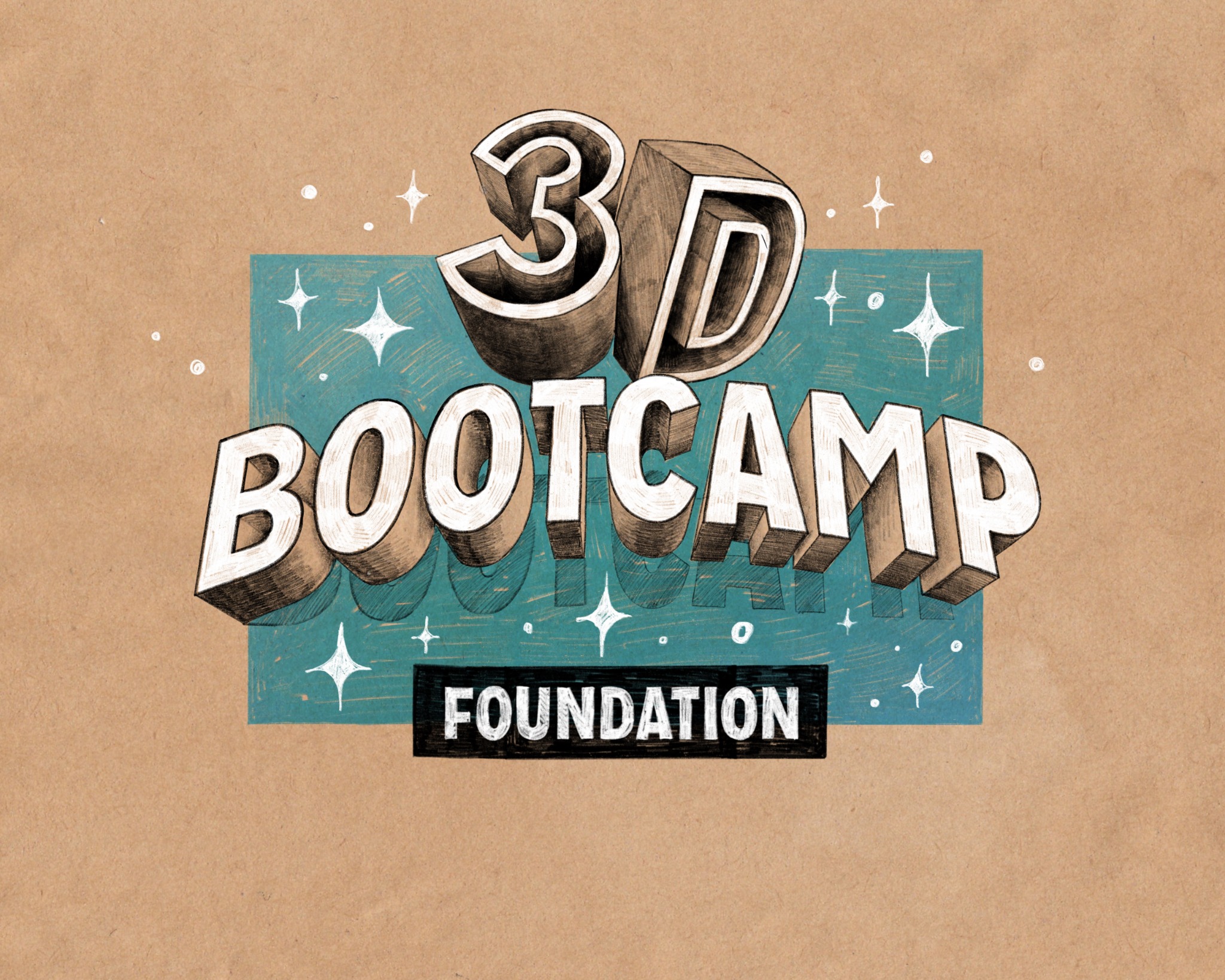 Bring your letters to life


3D Lettering Bootcamp - Foundation
FOUNDATION COURSE
Master three-dimensional drawing
& Create stunning lettering pieces without a fancy program.
Just with the help of your favourite drawing tools.
Join my 5-week Live Masterclass to build a solid foundation in all things 3D.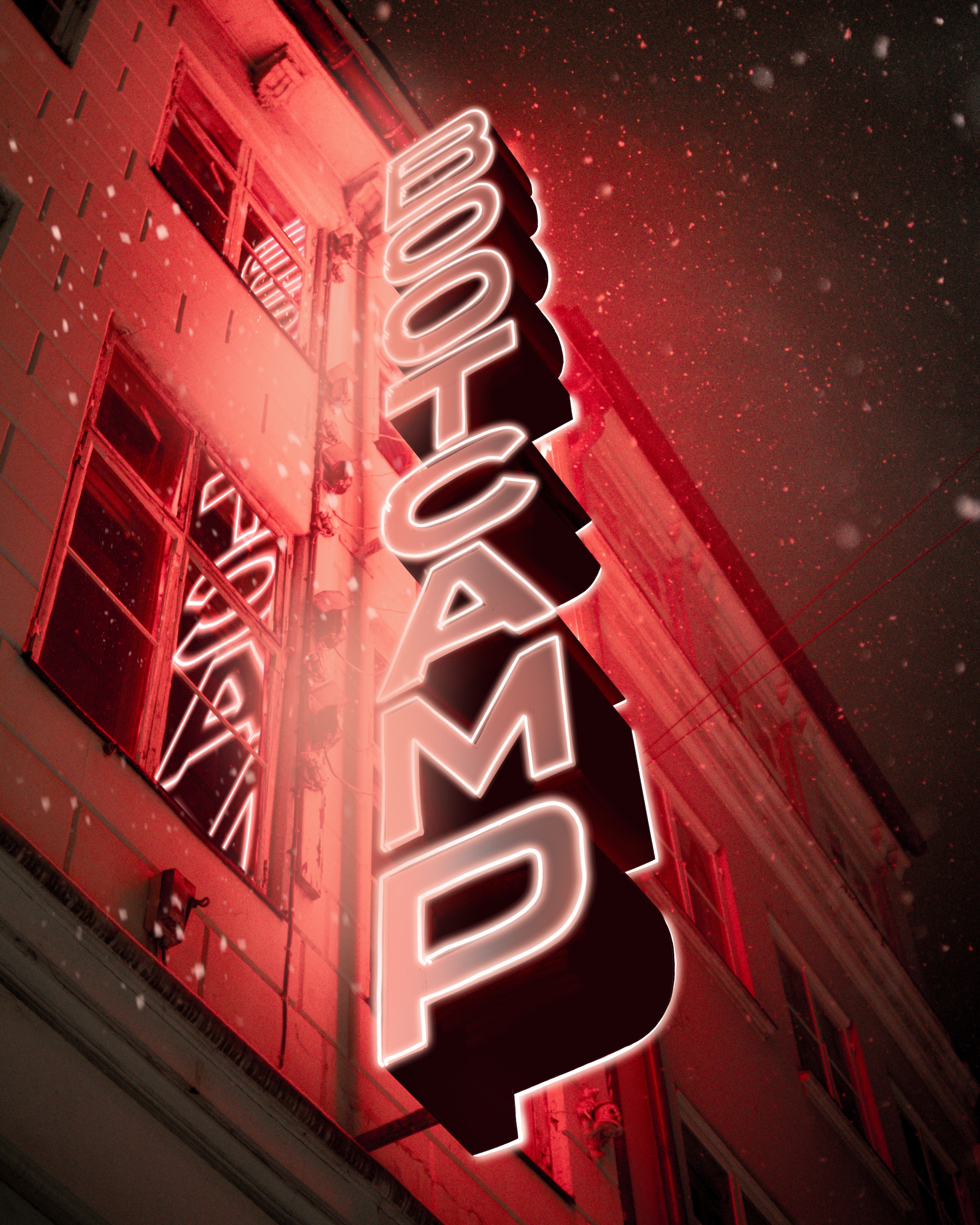 3D typography is will never get out of style. Jumping out of the page and very definitely taking the front seat. Tangible lettering that leaps of the page will make your design stand out!
Knowing the basics will give 100% confidence in creating 3D pieces.
Sketching your ideas will became easier.
Dimensional drawing is trending.
You'll unlikely ever get bored again. 
Your design will stand out from the crowd.
Only your imagination will be the limit to what you can create.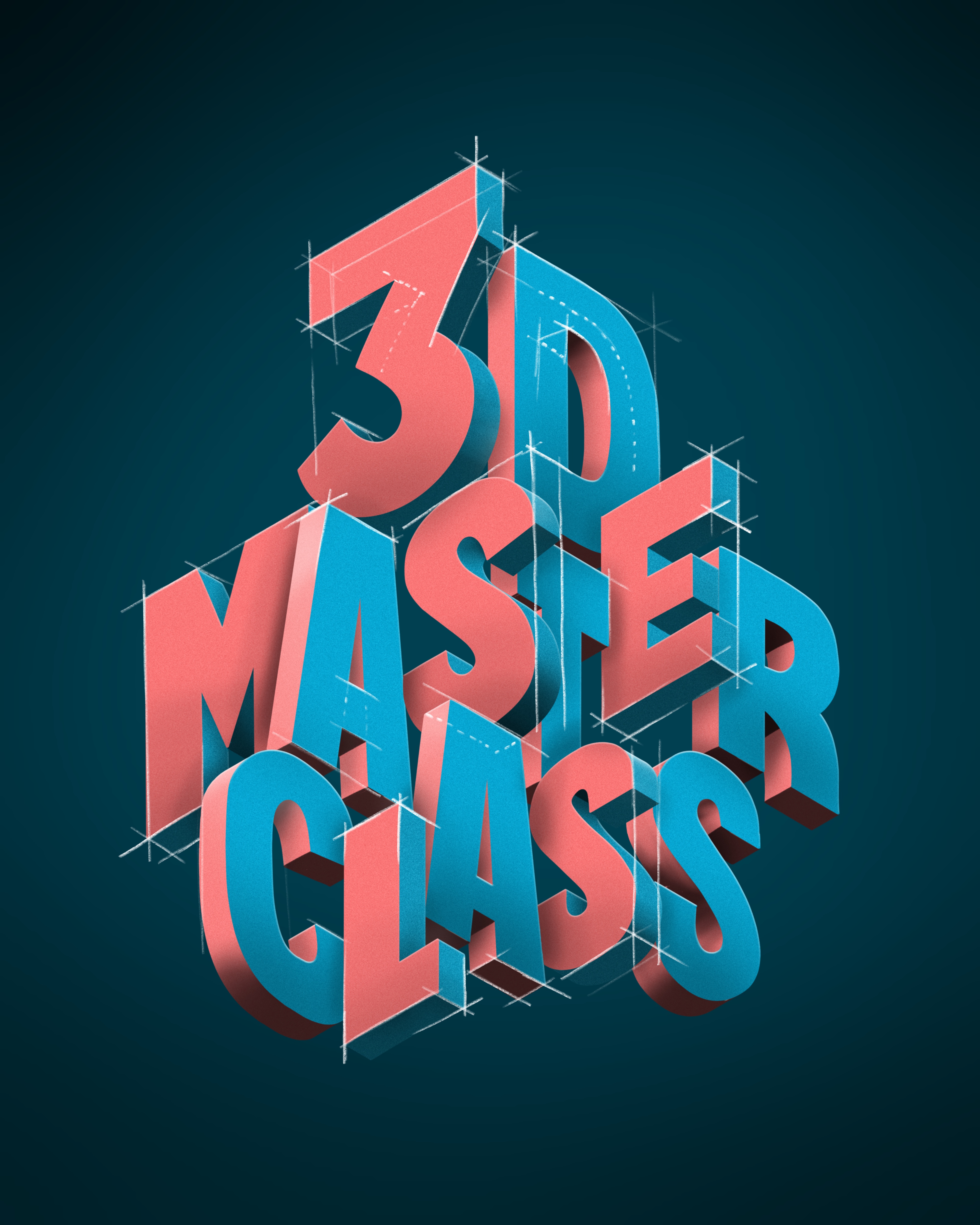 You are struggling with drawing in perspective and get it to look right. You get lost with all the lines & shadows and highlights are a mystery to you. Maybe you just want to your lettering to the next dimension and create stunning pieces.
You feel insecure whether you are doing it right or not.
You are frustrated with the result.
You are able to draw it but never really understand why you are doing it.
You want to really make your design stand out.
You are bored with lettering and need a new challenge.
This workshop is for you. Learn how to draw letterforms in 3D and make your lettering take the leap from great to awesome. 


With this course you'll get:
5x LIVE Zoom Class once a week taught and hosted by Stefan Kunz
Time to meet & practice with fellow students in breakout rooms
Lifetime access to all Zoom Video recordings in FullHD (to watch and replay any time at your own convenience).
Feedback on Homework assignments by Stefan Kunz & peers.
Exclusive access to our Class WhatsApp Group-chat.
PDF Exercises to print out at home or work on digitally alongside and on your own.
Recap email with all the important information from every class.
And by the end able to:
Draw letters in 3D using all five different perspective technics.
Know when and how to apply the correct technic.
Draw any form & shape in perspective (more than just letters)
Create a stunning artwork with each technic you've learned.
Keep growing and expanding your knowledge beyond the class.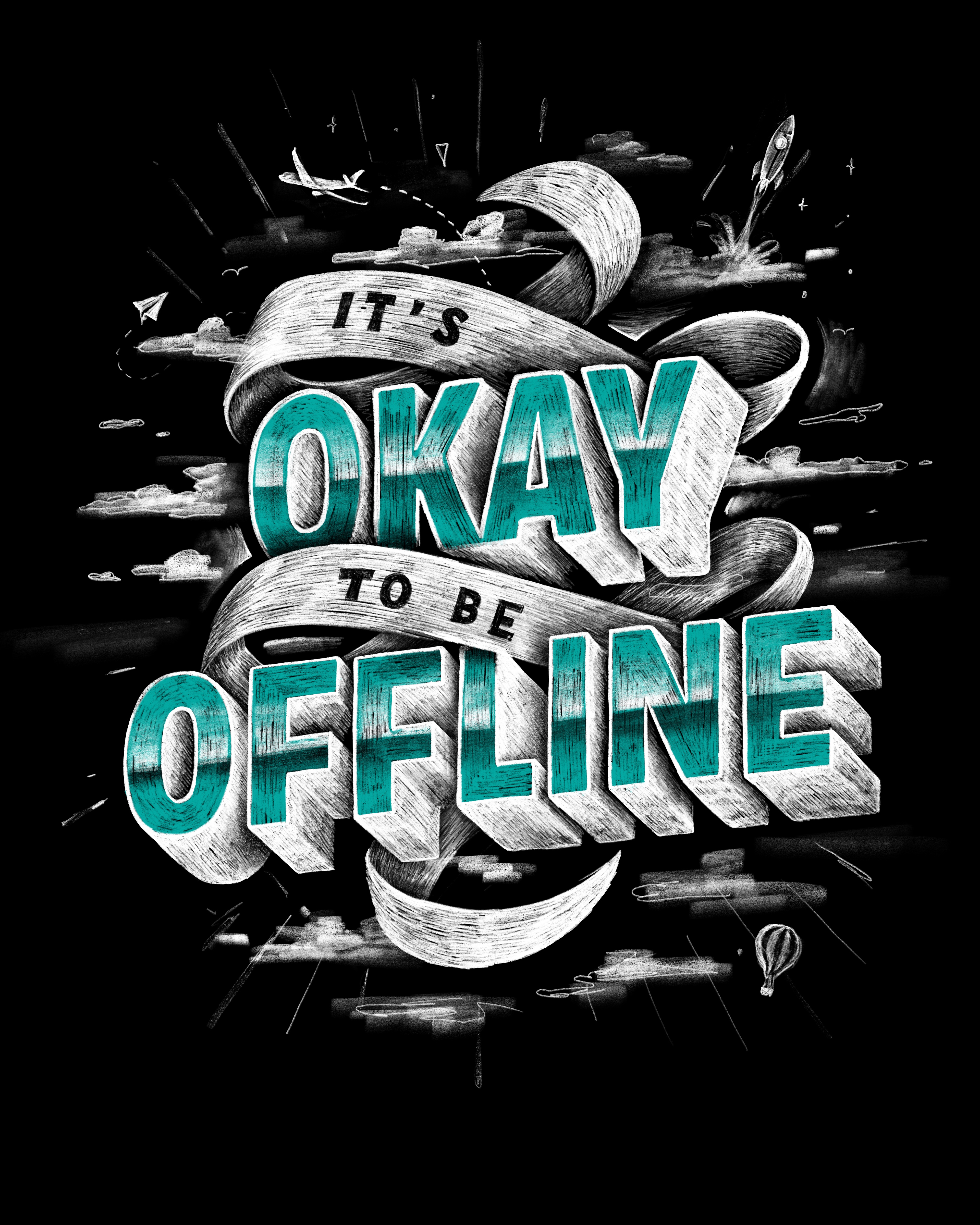 BONUS
You will also get access to 4 lettering application videos. Each one of them is over 1 hour long.
LEARN SOMETHING NEW EVERY WEEK


for five weeks with plenty of time to practice in between.
Join my 5-week Live Masterclass to build a solid foundation in all things 3D.
$249
(seats limited)
CREATE WORK THAT EXCITES YOU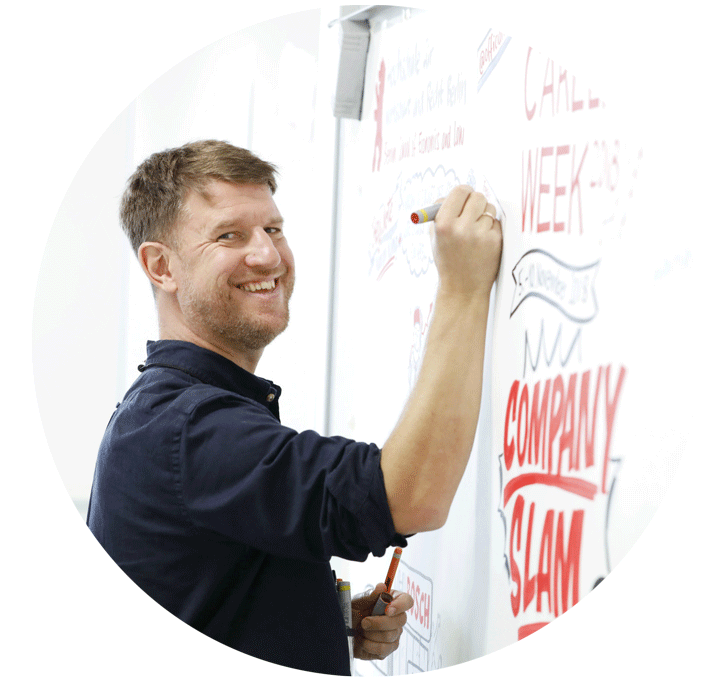 «I learned so much more than I expected and can use the knowledge in so many areas of my professional work life. Fun fact: people ask me now how I do all that cool stuff! Thanks, Stefan - that was an unexpected life-changing experience!!»
Benjamin Felis, Graphic Recorder & Sketchnoter from Berlin, Germany
SESSION OVERVIEW
EVERY WEDNESDAY
9AM PST 12PM EST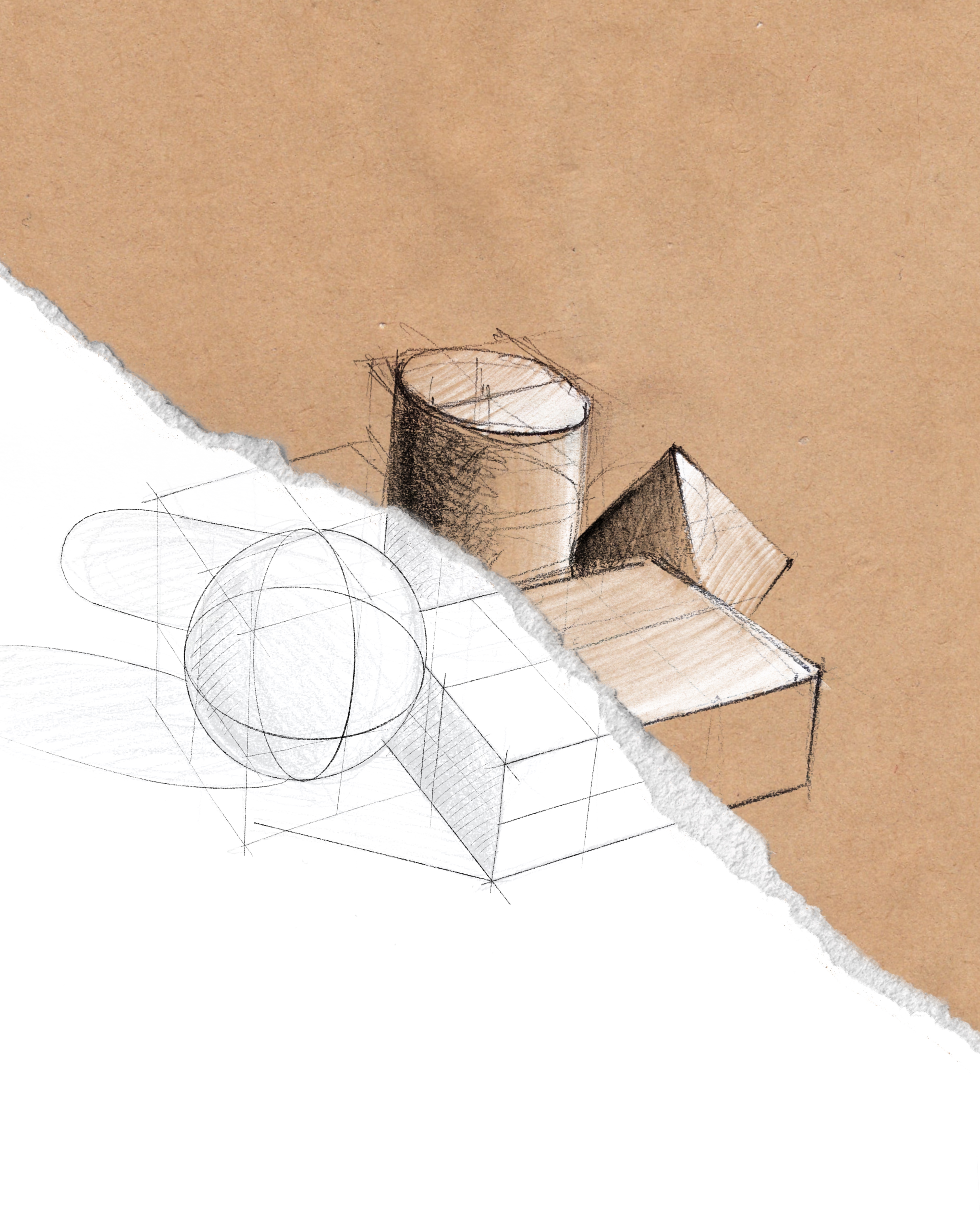 INTRO, SHAPES & FORMS
(Wednesday, Nov 10th 2021)
Sketching is the basis for all drawings and how to sketch is essential. We'll explore 3D shapes and forms, the basics and how out of 3 simple shapes you can really draw everything else.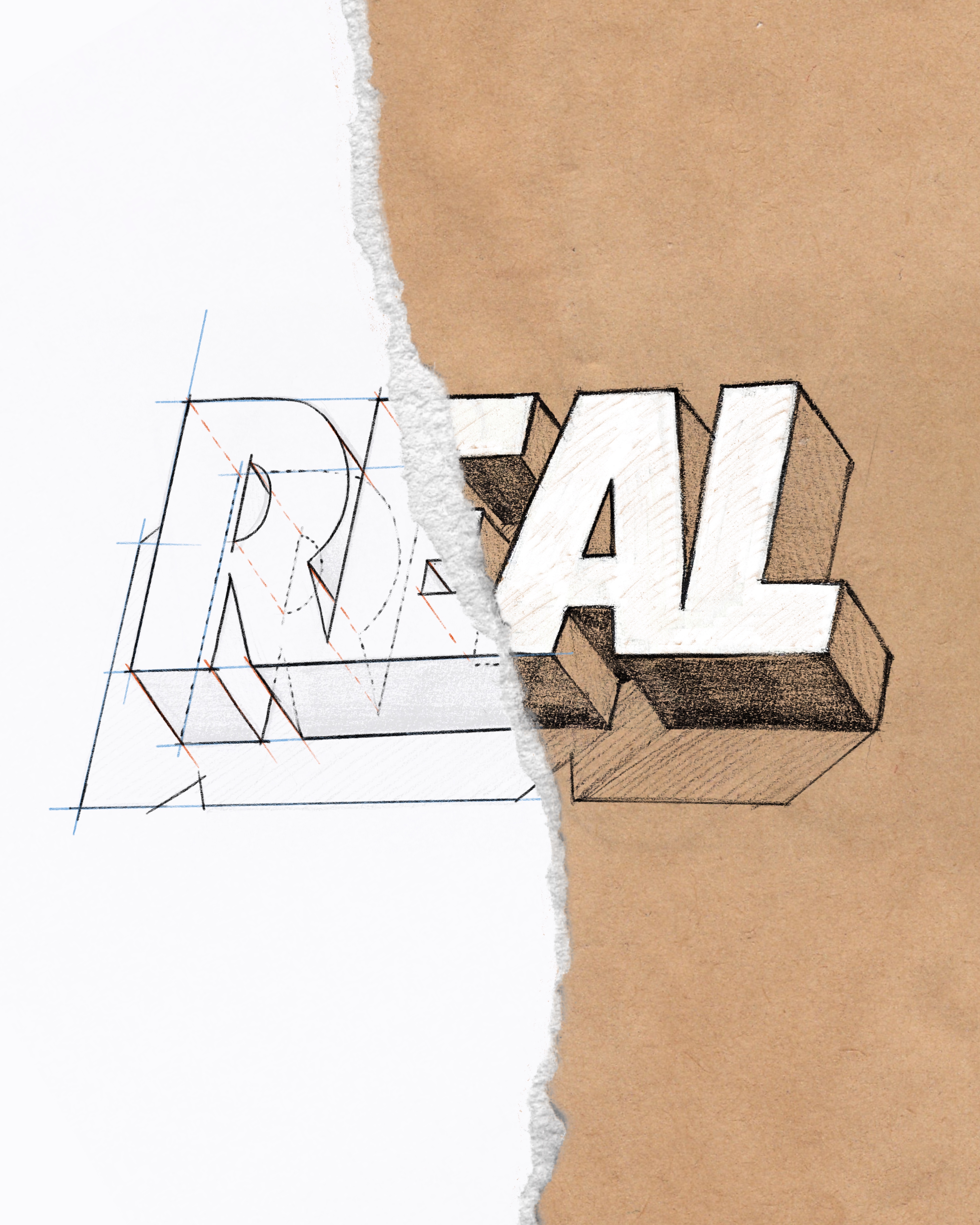 SIMPLIFIED 3D
(Wednesday, Nov 17th 2021)
While this is the most commonly used method used in Lettering, did you know that it actually isn't 3D at all? Just a great illusion. Learn how it works and what to avoid that no one will ever find out that it's fake!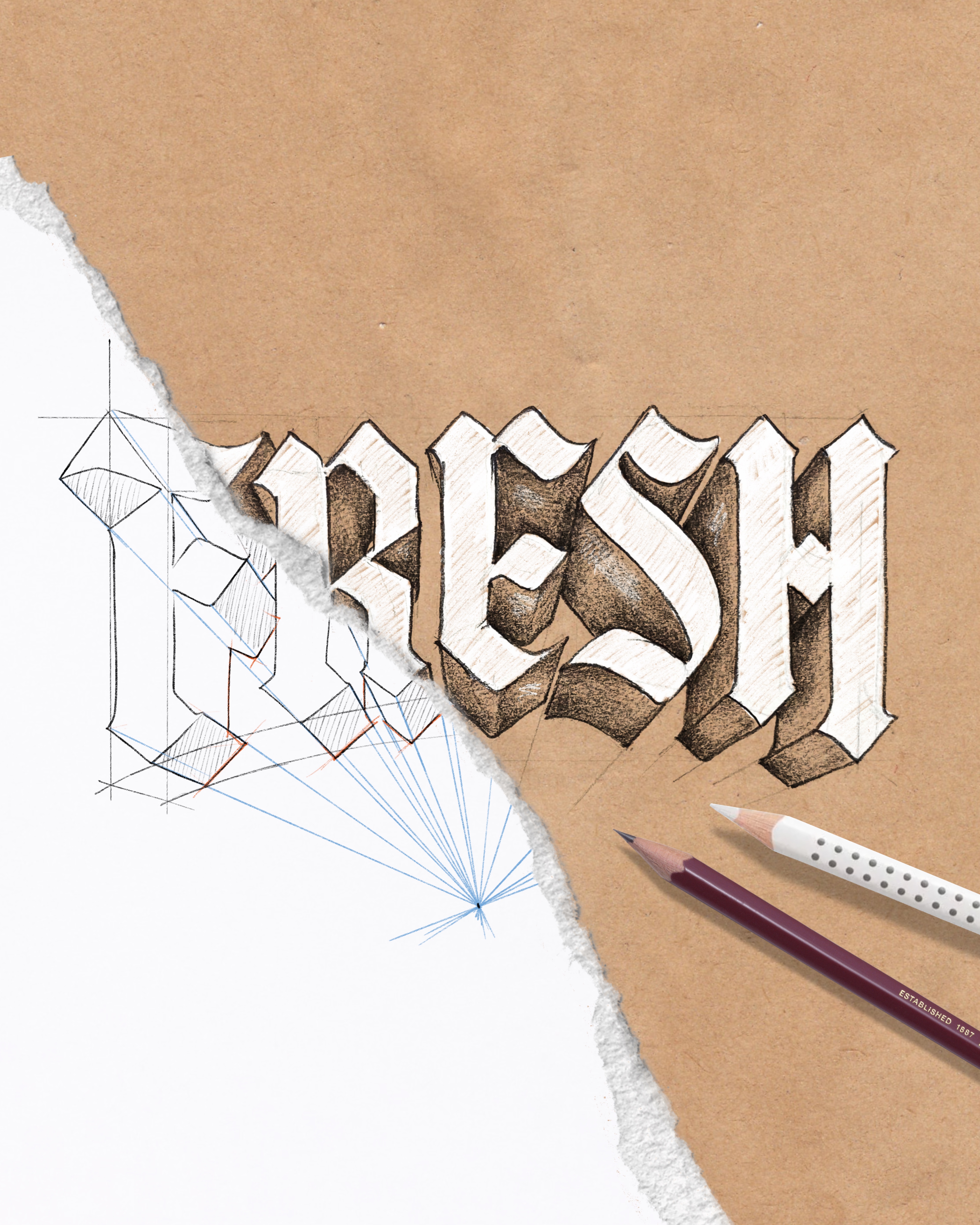 ONE-POINT PERSPECTIVE
(Wednesday, Nov 24th 2021)
A simple technic and great introduction into the world of real 3D. This technic is used by architects, painters and many more. Learn the intricacies and how to apply it to your lettering.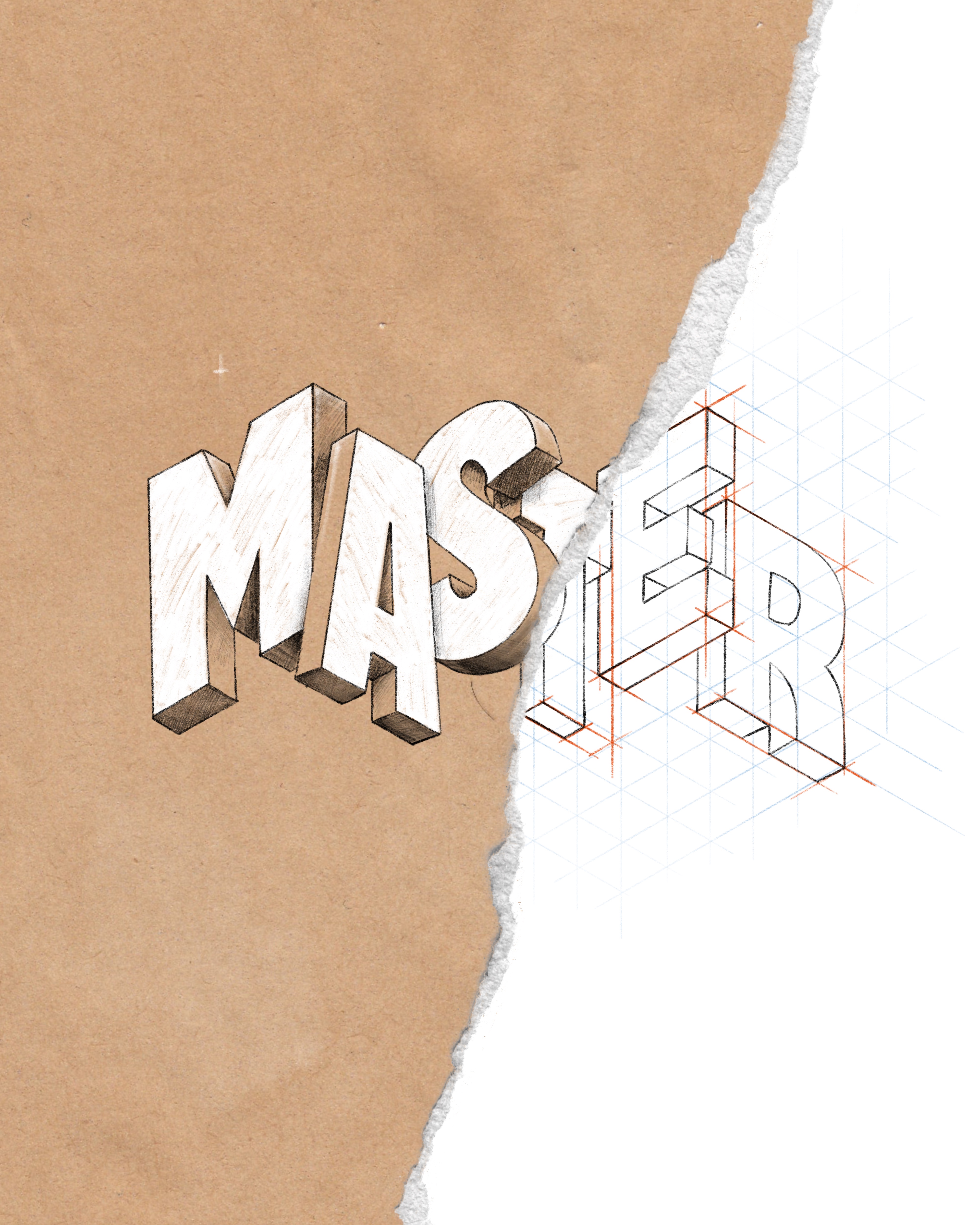 ISOMETRIC 3D
(Wednesday, Dec 1st 2021)
This technic is well known from games like Sims and many more. Learn to draw any object within this grid & how you can create beautiful intricate lettering pieces.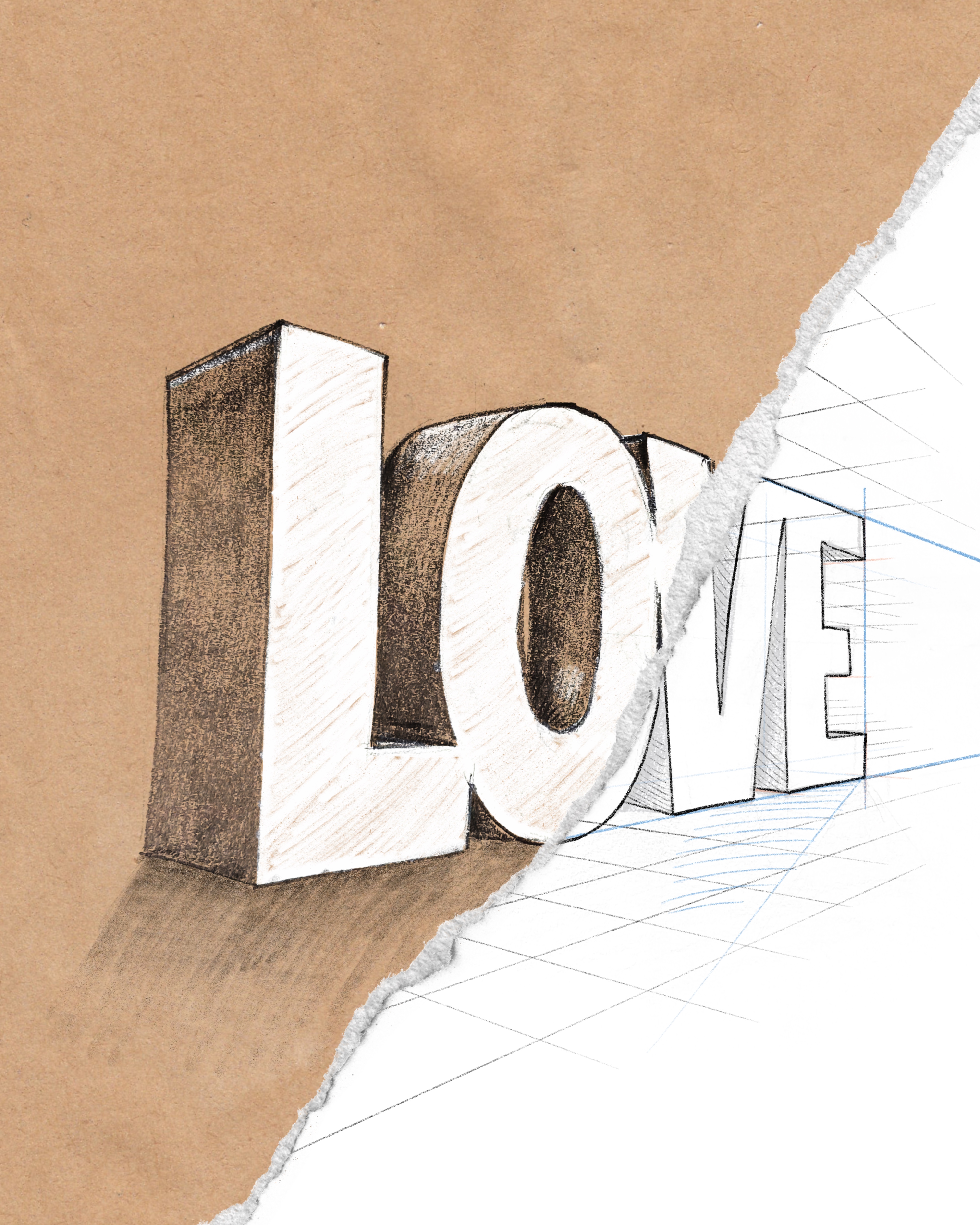 TWO-POINT PERSPECTIVE & THREE-POINT
(Wednesday, Dec 8th 2021)
This is the final stage and the most advanced of them all, but it builds upon everything we've previously learned and therefor you'll be ready for this session.
You cannot make it to one or any of the sessions? 
We've got you covered.
You'll receive a replay that you can watch at your own pace.
$249
Work created by my awesome students during the last 3D Bootcamp
BOOTCAMP SESSION STRUCTURE
Each session may go up to 2 hours.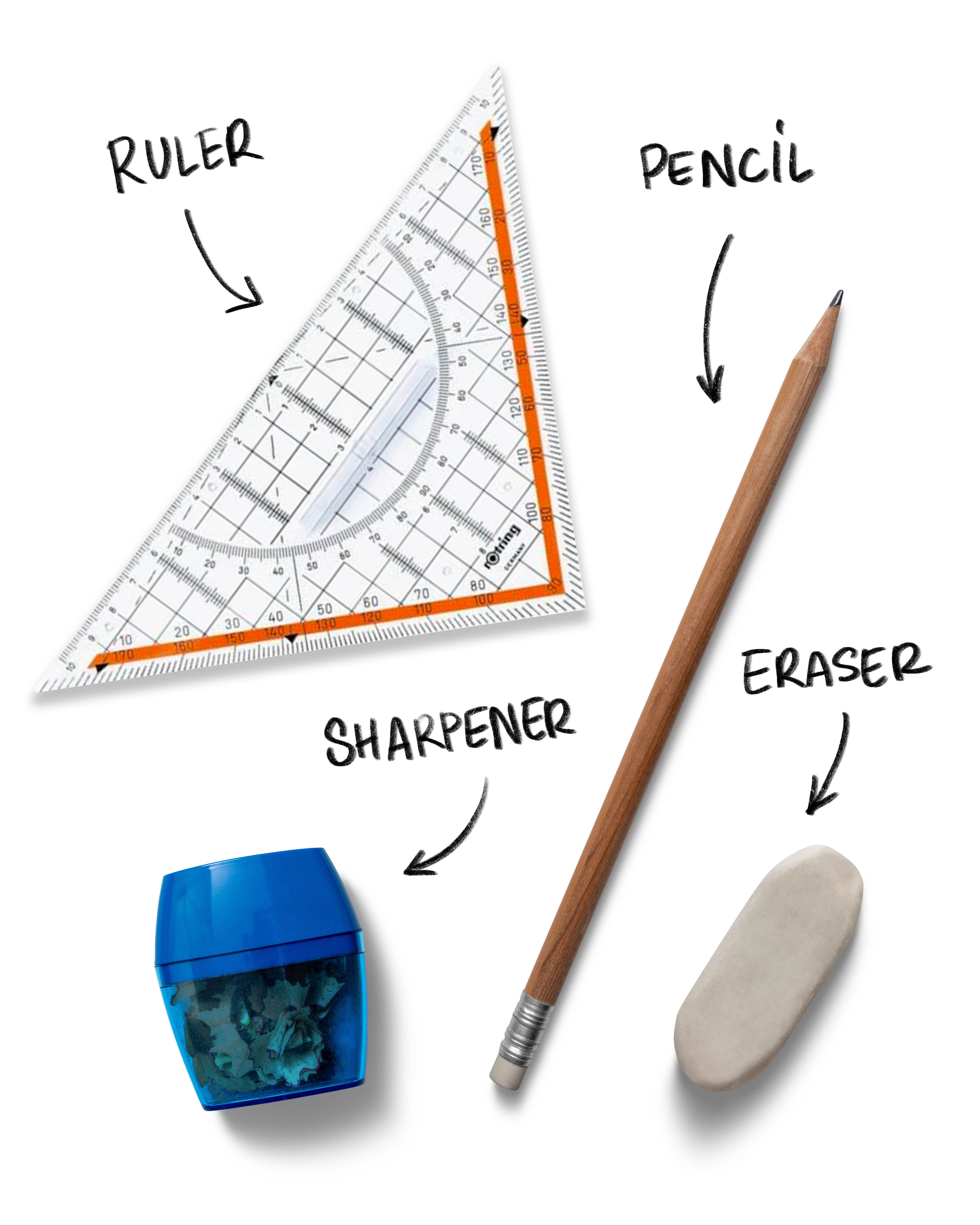 Install Zoom on your PC or Phone for the Webinars & good internet connection.
These are my recommended (can be switched out)
Paper A4 (or similar size)
Pencil & pencil sharpener
Red & Blue pencil
Eraser
A ruler or set square (triangle ruler)
You can also use Procreate or any other device & app.
Get your lifetime access now
Seats are limited
$249
Hi, I'm Stefan Kunz a Letter Designer, Artist, Teacher, Book author, and coffee enthusiast from Switzerland, I also recently started to learn to play the guitar. Making progress every day. Learning something new is challenging but equally rewarding when you get better, Which is why I love teaching what I've learned and see my students succeed!
My fascination for all things 3D from definitely came at young age when I was filling up sketchbooks with drawings of houses, products and much more (you'll see some of my early drawings in the first class). This allowed me later on to apply what I had practiced all these years to my lettering and create pieces that would stand out from anyone else's. But it didn't scratch the itch, so I kept going down the rabbit hole, exploring this topic, analysing every drawing and understanding how I got there and how you can do it too. If I was able to, you will too.
That's why I developed the 3D Lettering Bootcamp.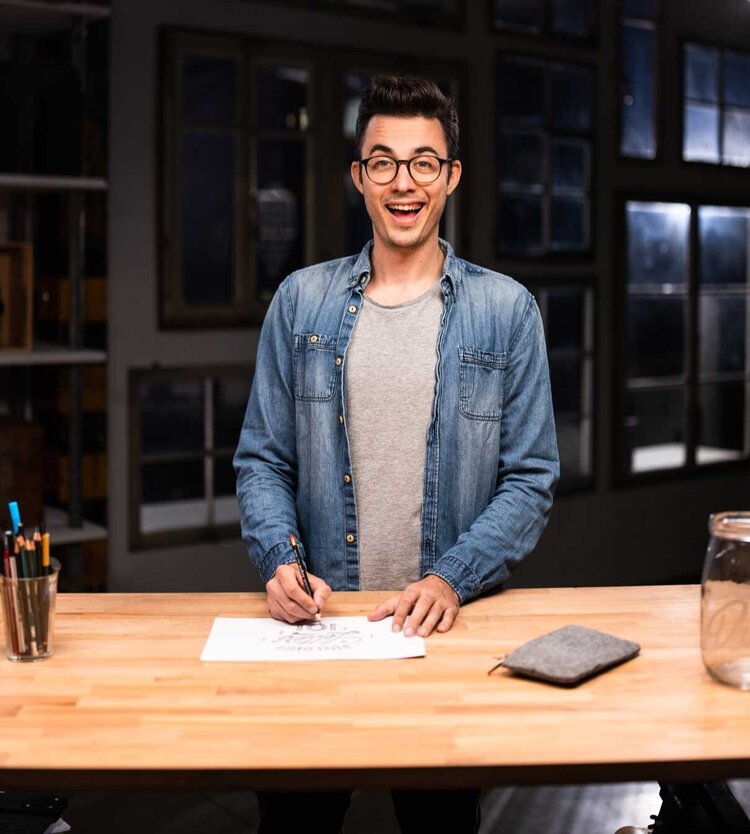 FREQUENTLY ASKED QUESTIONS
Part two is in the finalising stages, it will be an advanced course. You'll need the a very good understanding of the 3D world at this point, so part one if necessary for part two. So be on the look out for this course in the end of summer.
The course is divided into 5 live sessions. The first session starts on Wednesday, Nov 10th, 2021, at 12pm Eastern Time and repeats every Wednesday at the same time after that. Each session has an estimated duration of 120 minutes long. After the sessions have concluded, you will have access to the replay through teachable.
After all sessions have concluded you will have lifetime access to the replay.
Yes! Sessions are all held live via Zoom and you can access it from wherever you are (even the bathroom… just turn off the camera).
This course is open to anyone. Whether you are just starting out, have dabbled with 3D, or want to build a solid foundation, this course is for you.
It's a beginner/intermediate course. If this seems too basic for you, part two will knock you off your socks.
You'll need paper & drawing tools (check the recommendation list above) but you can use your favorite tools/device. The Bootcamp will happen via Zoom meetings so you'll have to have it installed too to join the call.
The fee covers the attendance to all five live sessions, lifetime access to the recorded course, exercises, feedback from other students and instructor, and joining the exclusive WhatsApp group-chat.
If you miss a session for any reason, you will still have access to the recorded class and materials.