Script Lettering Bootcamp
Master the secret techniques of cursive letters in this 6-week LIVE Online Lettering Course with Stefan Kunz.
Are you stuck with brush lettering?
Most people's lettering journey starts with brush lettering or calligraphy, which is a great place to start but a terrible place to get stuck in.
IT'S TIME TO MOVE ON AND PUT YOUR BRUSH PENS AWAY
YOUR 6-WEEK JOURNEY TO MASTERING SCRIPT LETTERING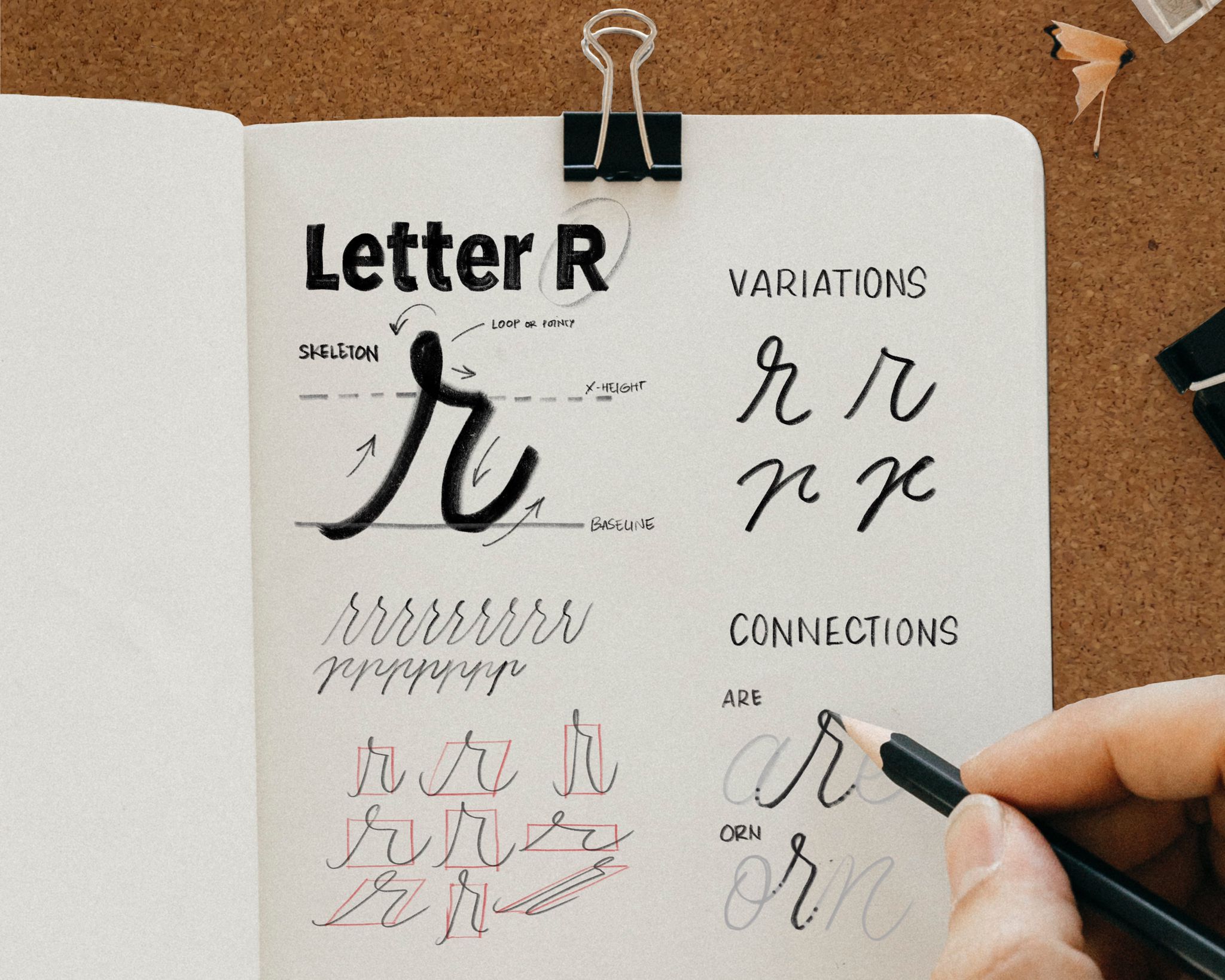 WEEK 1 - The anatomy of cursive letters
Flexibility of drawing individual letters in different variations and connecting it to different letters.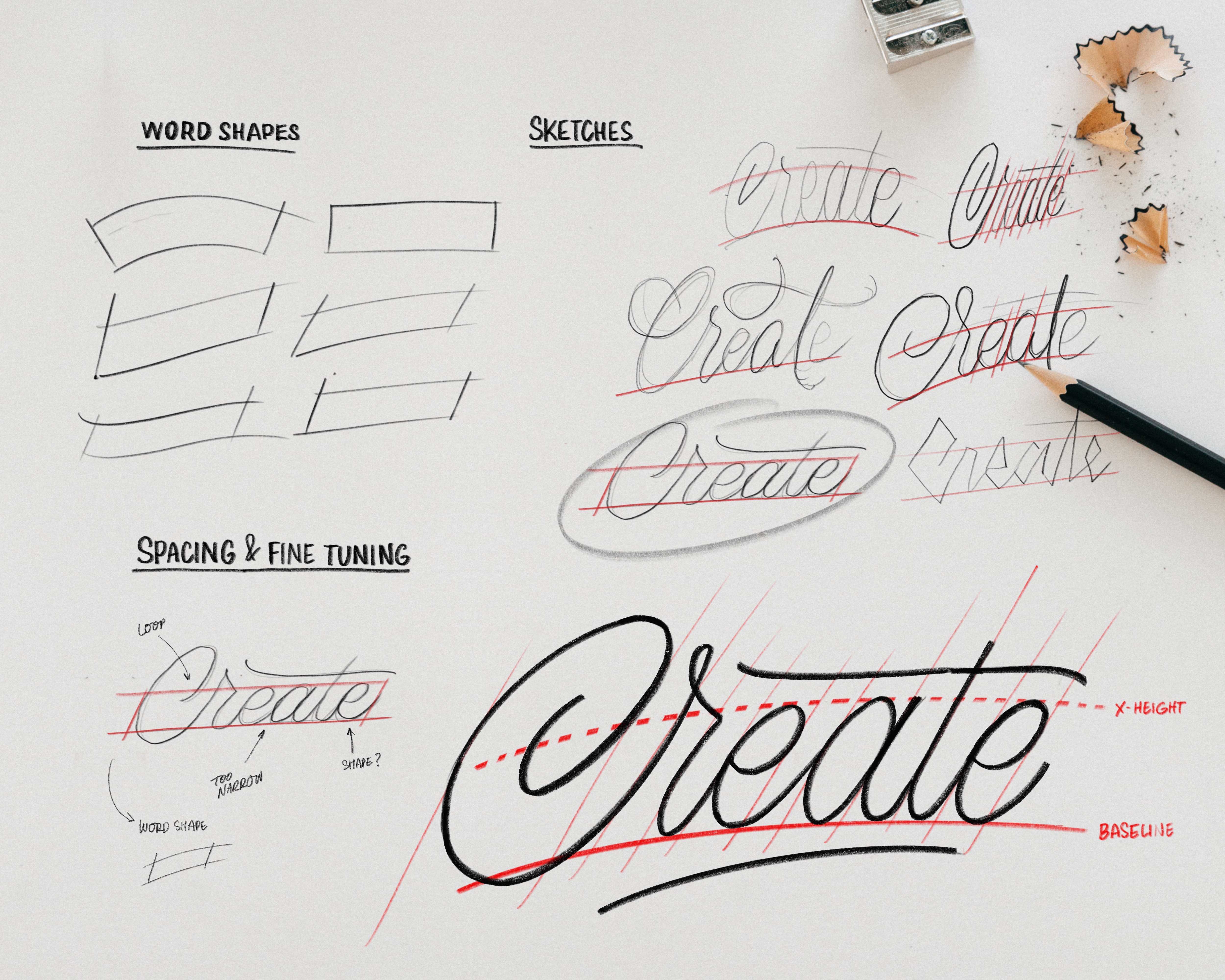 WEEK 2: The setup of cursive words
The foundation to drawing your words consistently, spacing it correctly.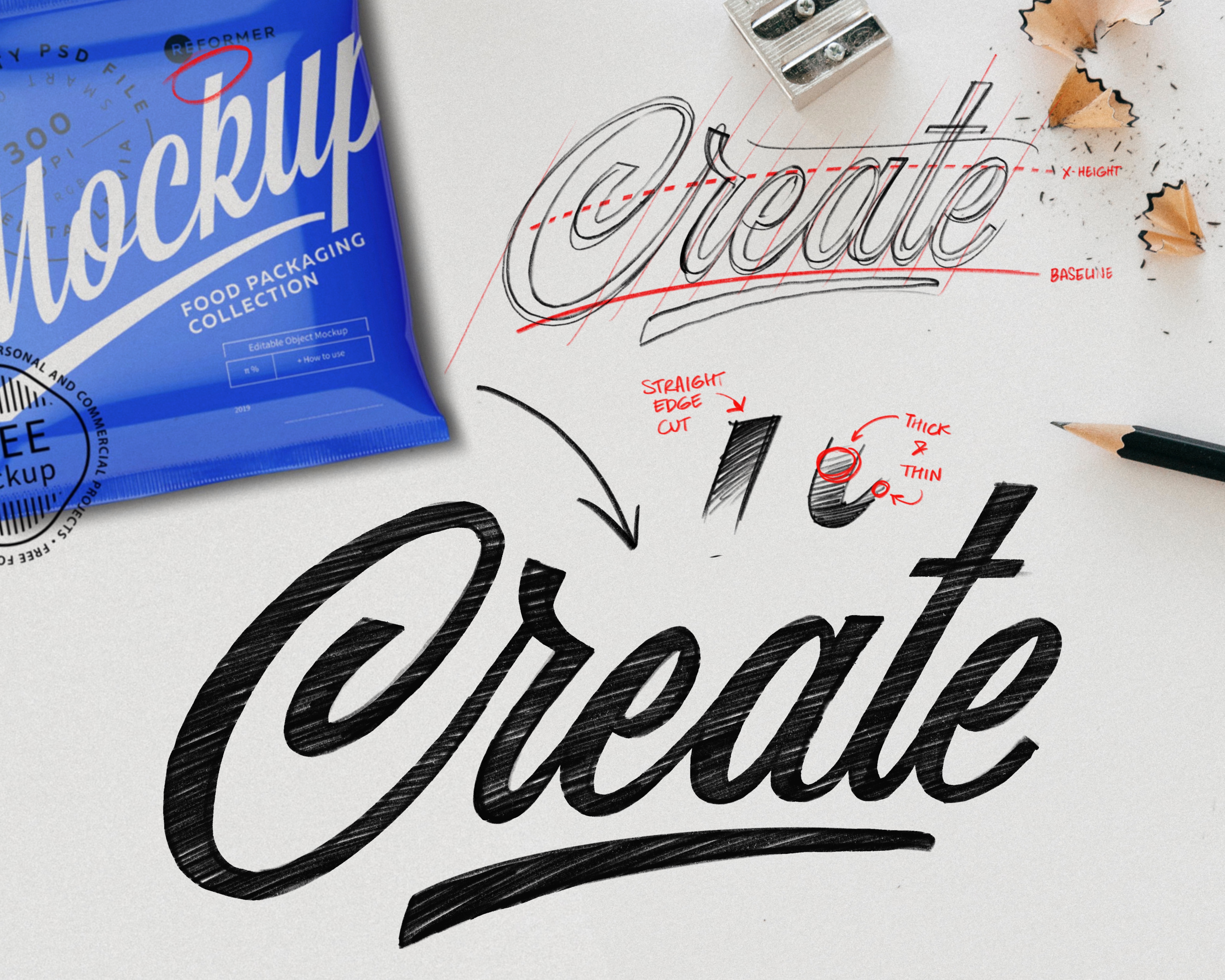 WEEK 3 - The weight of your letters
Giving your letters contrast and style (2 styles under the loop)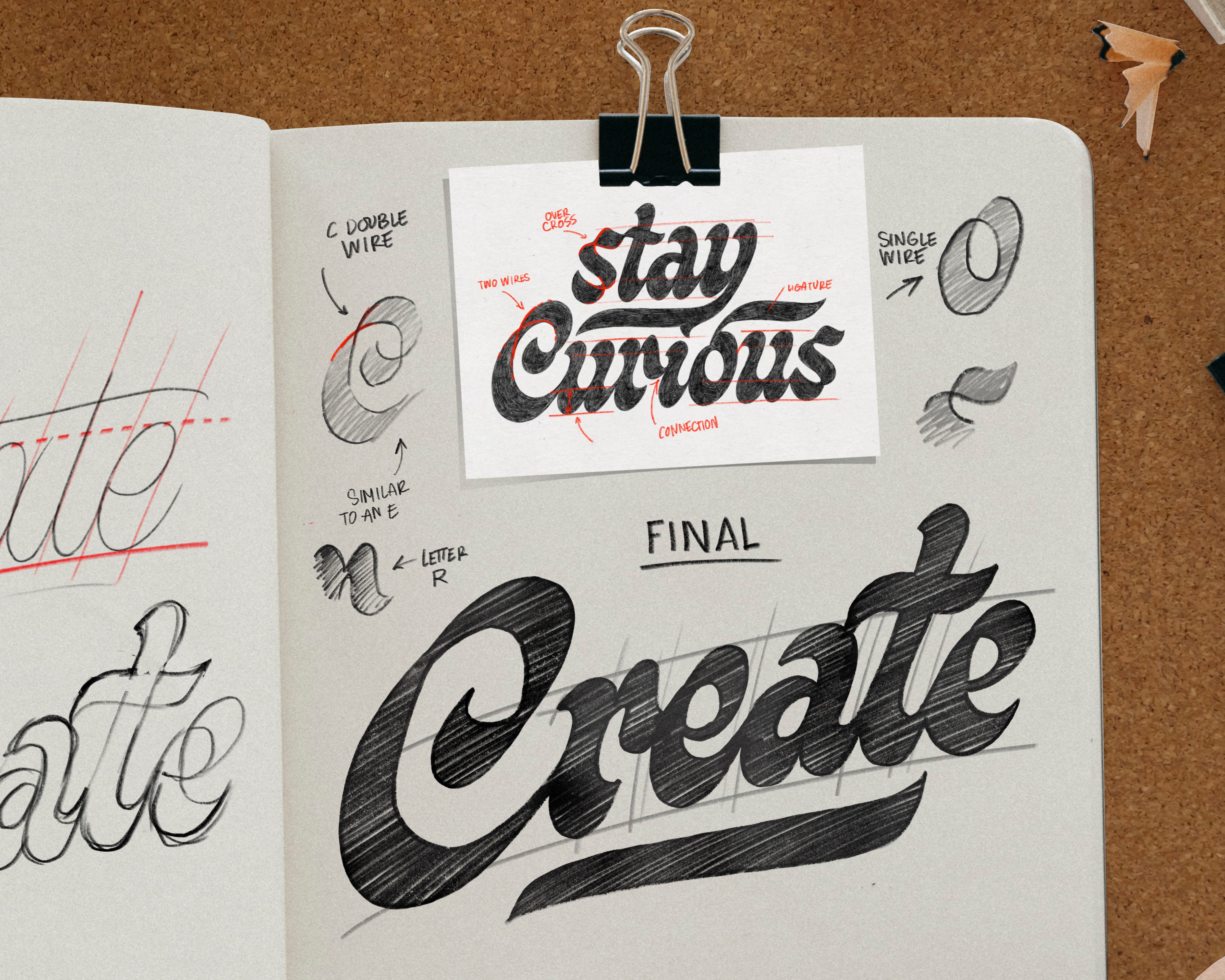 WEEK 4 - The different cursive styles
Exploring more styles (2 styles under the loop).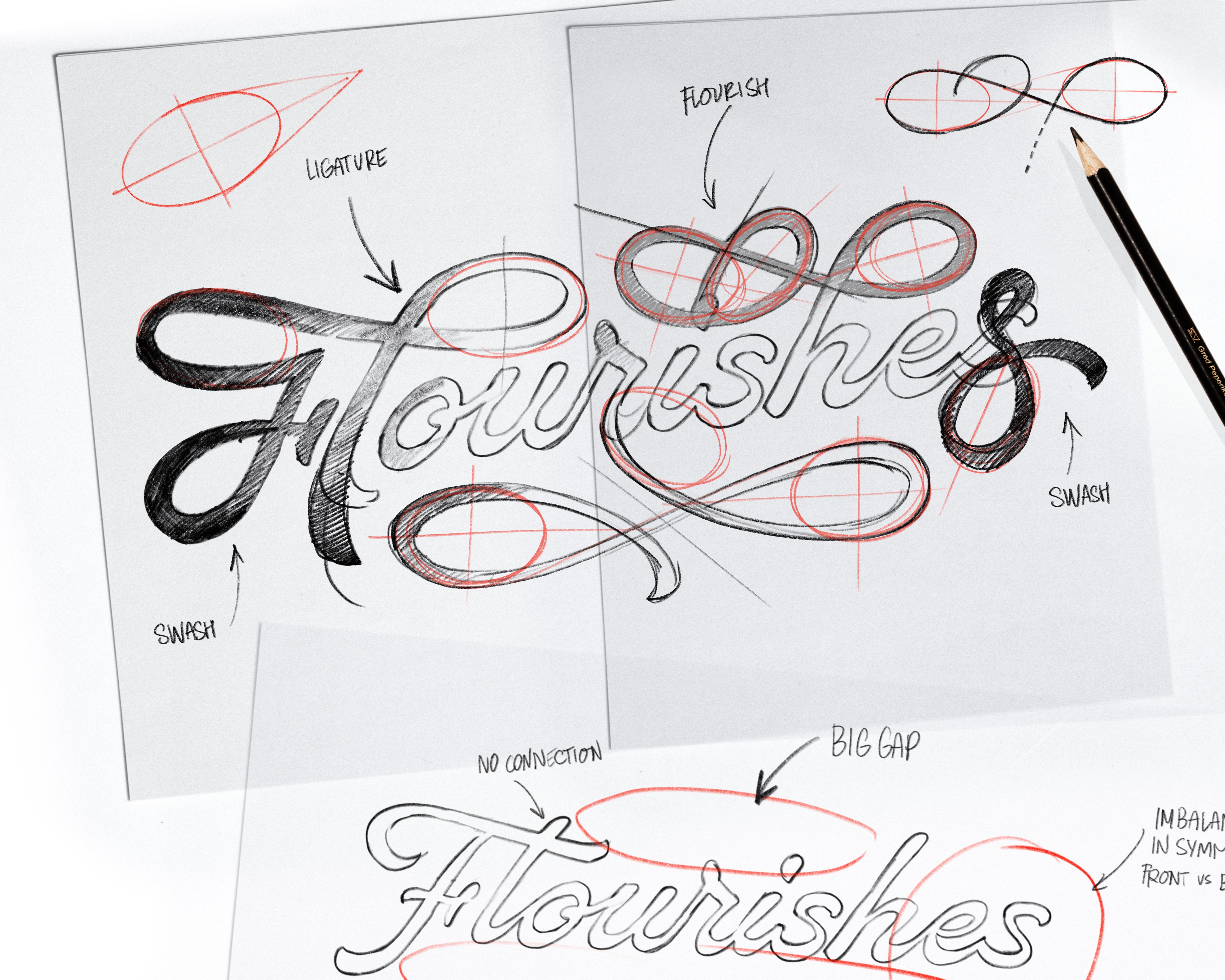 WEEK 5 - Ligatures & Flourishes
Making the most out of the space you have.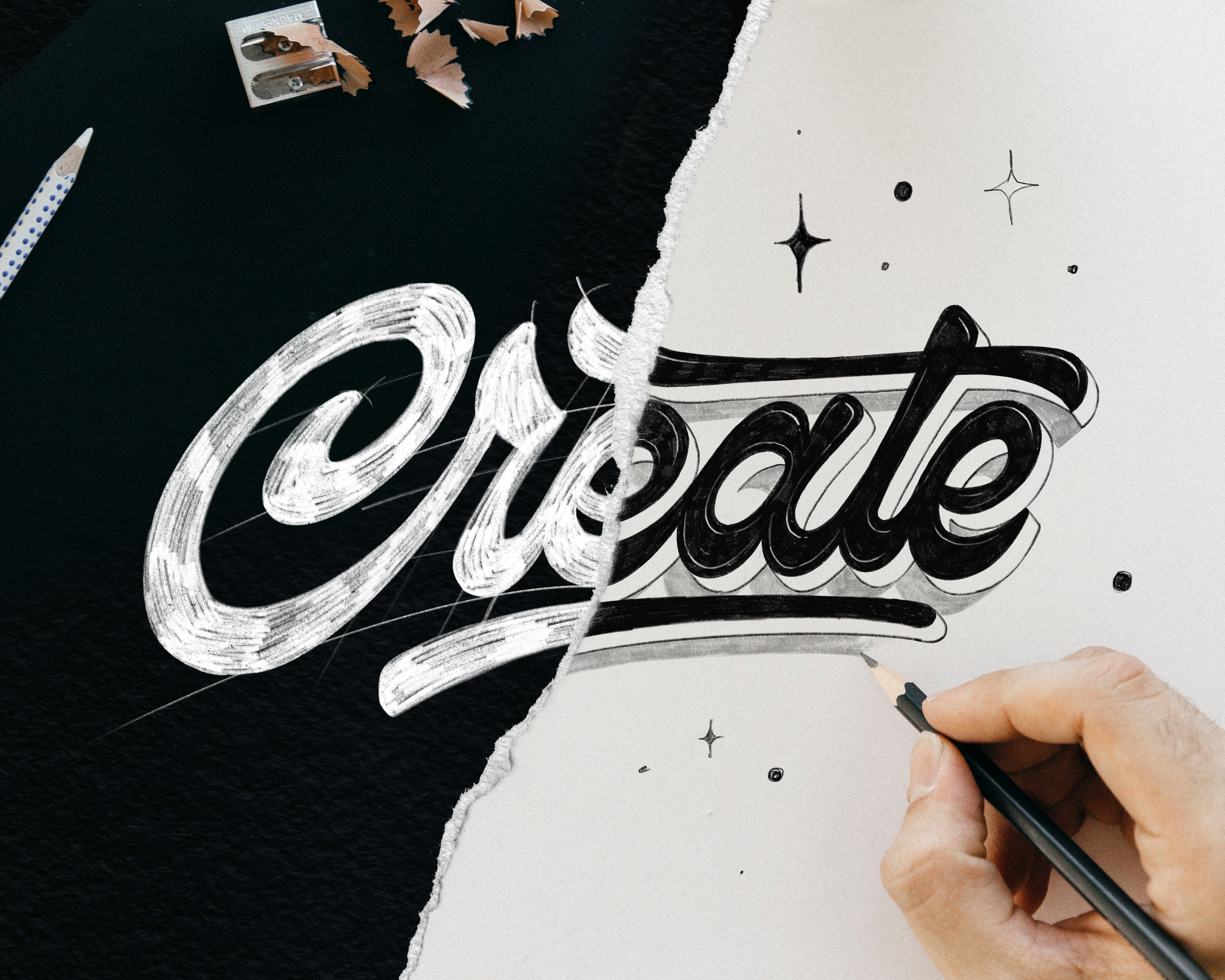 WEEK 6 - Final piece
Experimenting with other tools and create your final design & finding your voice.
This course is for students who have tried lettering before.
INTERMEDIATE
Stop lettering with your brush pens!
If you want to level up your lettering skills you need to understand the fundamental techniques of cursive letters.
This Script Lettering Bootcamp is here to teach you how to construct letters the professional way to achieve amazing results.
Full course access for only:
$ 199.–
Script Lettering Bootcamp
LIVE Online Course over the length of 6 weeks.
Highlights
Learn LIVE in a safe environment with Stefan and other amazing lettering students.
Keep the recordings for a lifetime and rewatch as many times you want to (10+ hours).
Find lettering friends from all over the world.
Finish strong with accountability from peers and a project you'll want to share.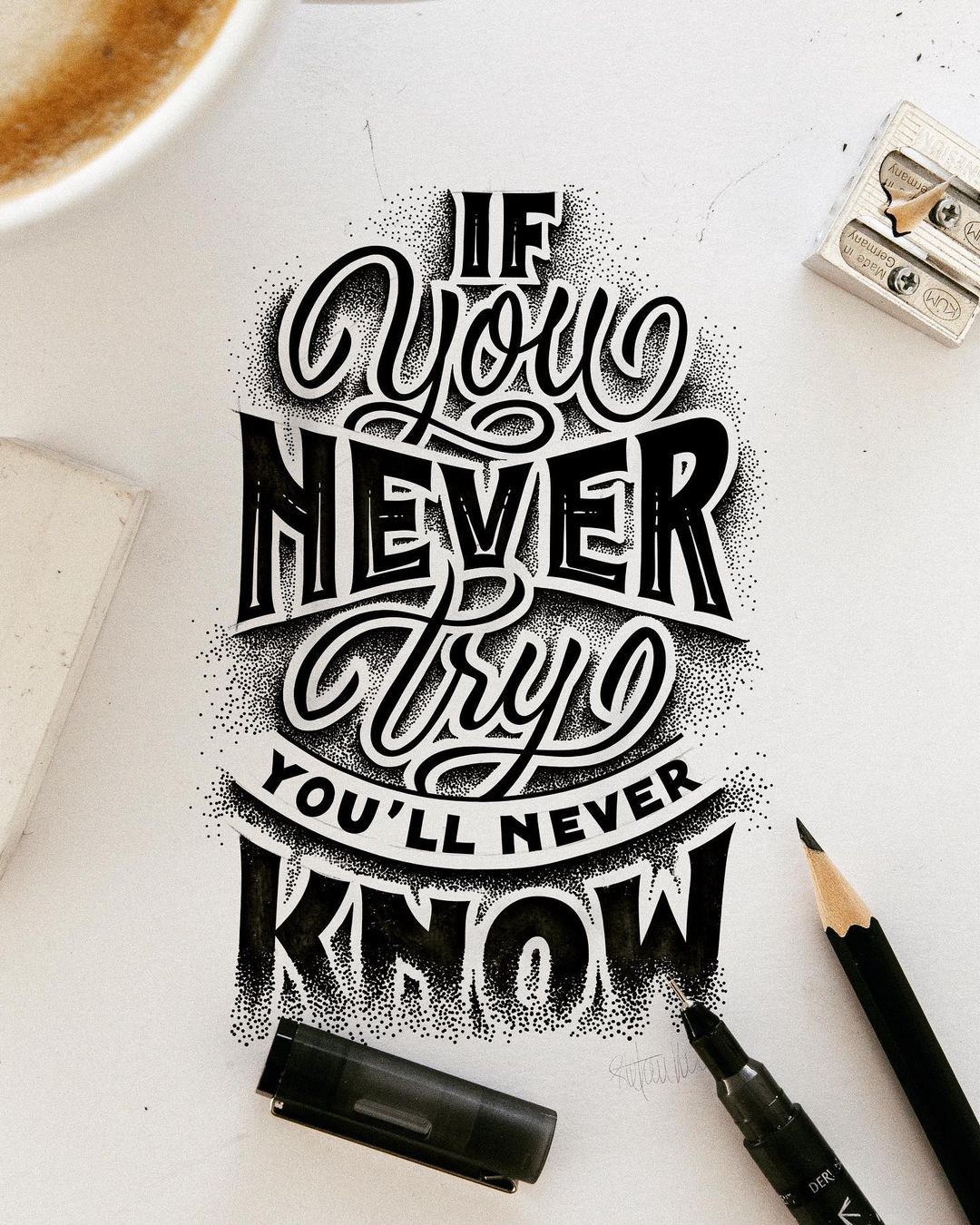 What you get:
Work on a project to check and demonstrate your learning
Learn the techniques of cursive letters.
Get access to live webinar Zoom calls, replays, downloadable resources, and all the course material.
Share and collaborate with peers to broaden your knowledge.
Ask questions during the sessions and receive feedback from homework assignments.
Keep access to the resources and zoom recordings from Teachable indefinitely.
Get a minimum of 10 hours of recorded video material focused
on Script Lettering.
Full course access for only:
$ 199.–*
Learn how you can succeed at cursive lettering with pen and pencil & your imagination in 6-weeks.
How a Bootcamp Session looks like
Each session may go up to 2 hours.
We start with a short repetition of last weeks topic. I'll review some of your homework and give you feedback to the whole class.
You will get an introduction to the new theme of the session.
I explain everything in detail and do a demonstration.
Then you'll get to exercise on your own lettering piece.
We end each session with a Q&A block & homework assignment.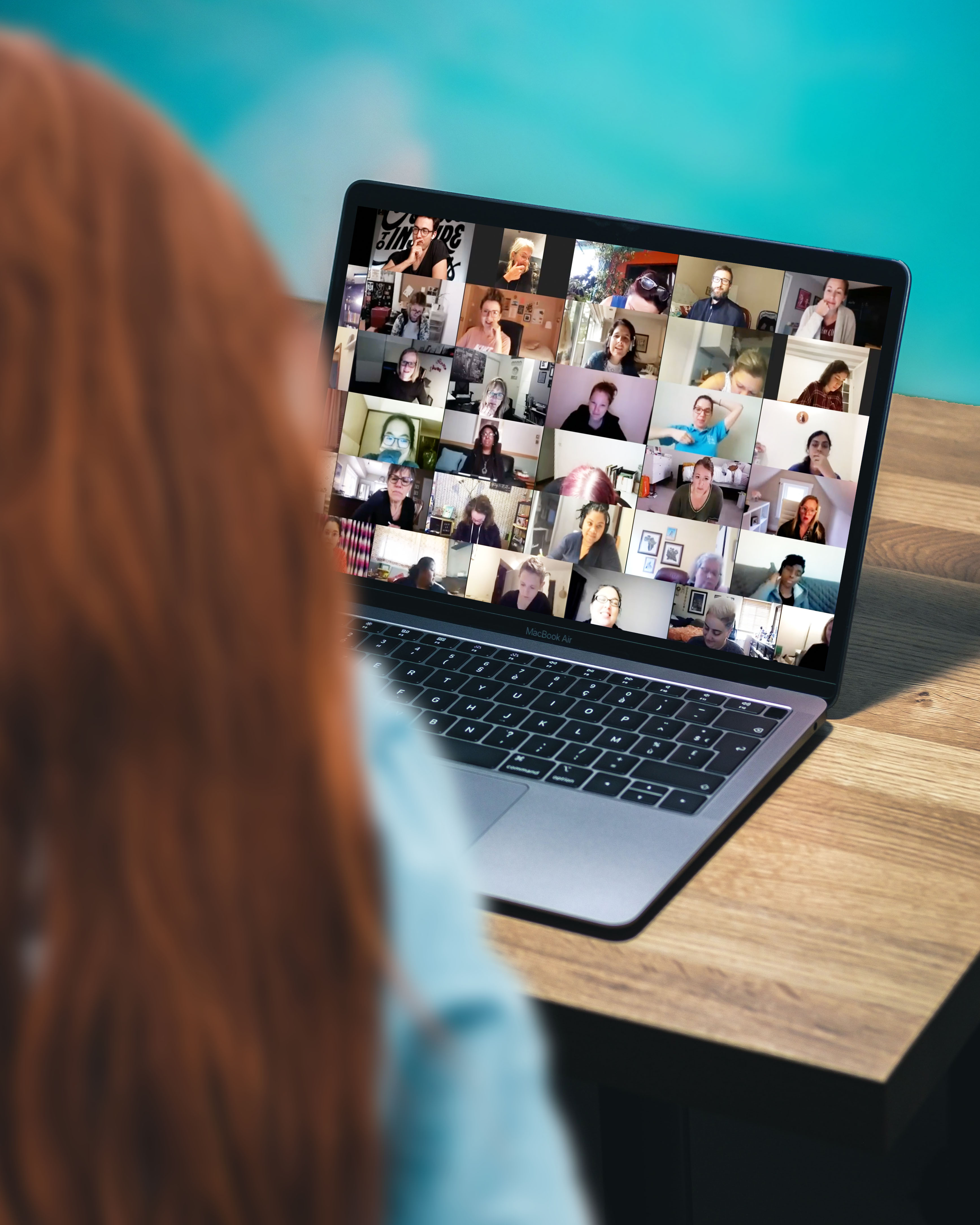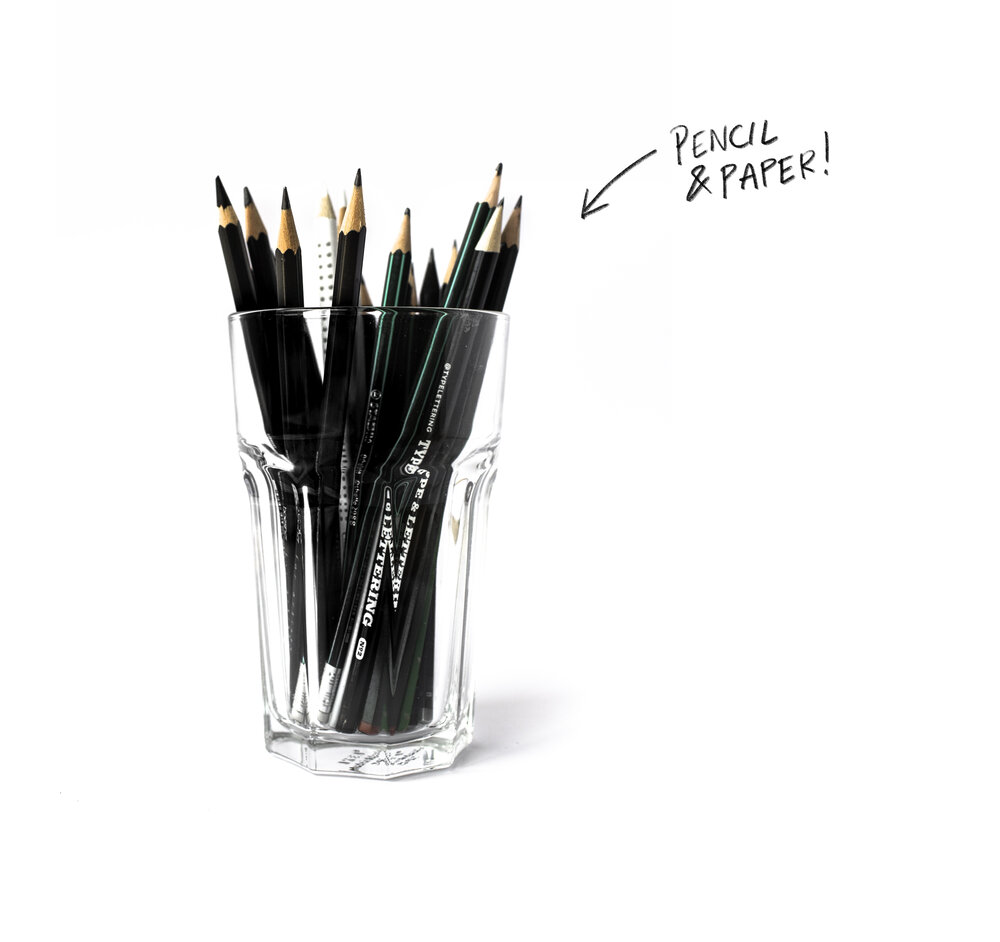 Pencil and Paper is all you really need. If you prefer to draw on your iPad, feel free. This course teaches you the techniques of script lettering and does not require any special supplies or brushes.
Install Zoom on your PC or Phone for the Webinars.
WEEKLY WEBINAR TIME & DATES
9AM PST 12PM EST 4PM GMT
(We will be sending you invitations to the events and your time zone.)
February 2022 –
The anatomy of cursive
February 2022 –
The setup of cursive words
March 2022 –
The weight of your letters
March 2022 –
The different cursive styles
March 2022 –
Ligatures & Flourishes
March 2022 –
Final piece




All live sessions for only:
$ 199
Seats Limited
Learn something new every week for 6 weeks – with plenty of time to practice in between.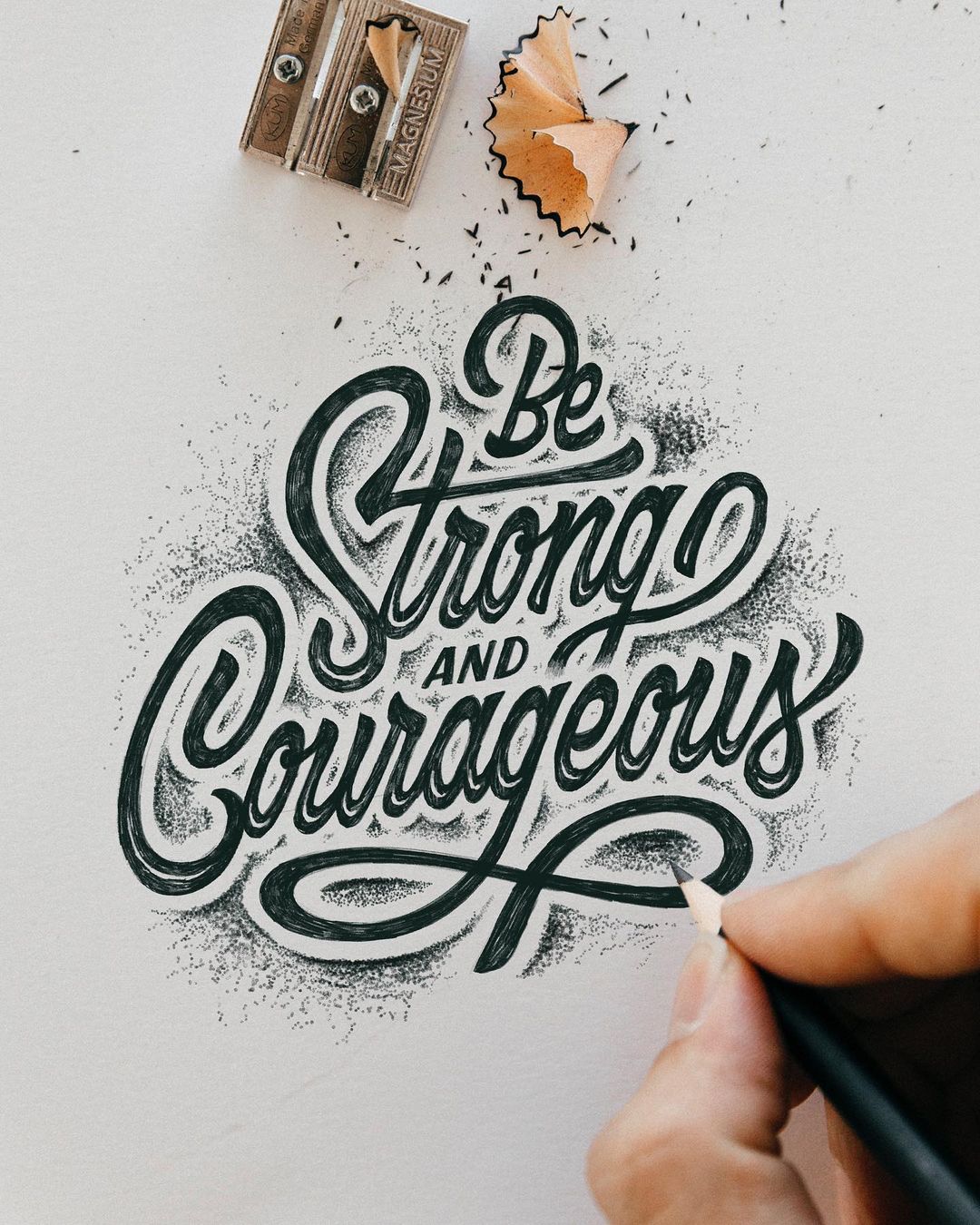 You should take this course if …
You are stuck with Brush Lettering and want to level up.
You want to learn how to imitate any lettering style you see.
You want to understand the technique and process behind script lettering.
You commit to put in the work.
You want to get inspired by Stefan and other students
Who is this Bootcamp workshop NOT for?
This course is not for you if …
You want to keep writing with your letters and use brush pens.
You expect simple template sheets to mindlessly fill out.
You already know how to draw recreate and imitate any script styles.
If you are looking to learn about composition, block letters, iPad Lettering or 3D lettering I have other courses for that.
Frequently asked questions
You can manage to follow Stefan. But we advise that you have some experience in lettering. Otherwise the pace will be too fast. As an absolute beginner we suggest doing The Ultimate Lettering Online course before.
Unfortunately we're not able to offer refunds on a single session. In the event you cannot attend a session you will get access to the recording later on. We don't offer refunds on Bootcamp courses since it's limited in size and live lessons.
Yes! Bring all your questions to the Q&A part at the end of each webinar session.
Yes, every webinar and workshop offers a good way to connect to other creative legends! A Whatsapp group chat will also be available to join and exchange.
It's a beginner/intermediate course. If this seems too basic for you, part two will knock you off your socks.
I'm excited that this 6+ week course offers more time for each student to practice during the week and bring they're questions at the beginning of each new session. That way everything learned will be solidified.
I cannot offer refunds for this Bootcamp. Seats are limited and all the sessions are live.
Didn't find an answer? We'd love to help you: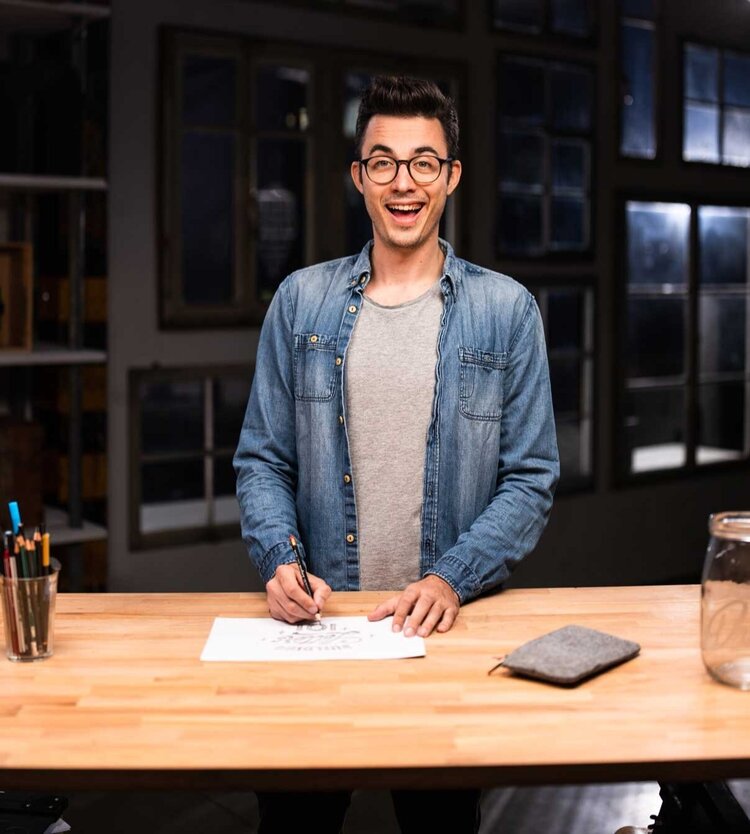 Hi, I am Stefan Kunz a Letter Designer, Artist, Teacher, Book author, and coffee enthusiast from Switzerland.  
I have had the pleasure to work with some big brands such as Coca Cola, Apple, Adobe, Microsoft, and Nokia over the last years and learned a lot about myself and the creative journey. 
Learning how to sketch out script letters can be daunting for anyone—just like visiting a new city and learning a new language. Browsing through countless videos and websites just to get the hang of it can seem too big of a task.
That's why I developed the Script Lettering Bootcamp. So you don't have to.